Contact us for sales, parts and servicing of electric vehicles, buggies, carts and battery trucks
Contact us
---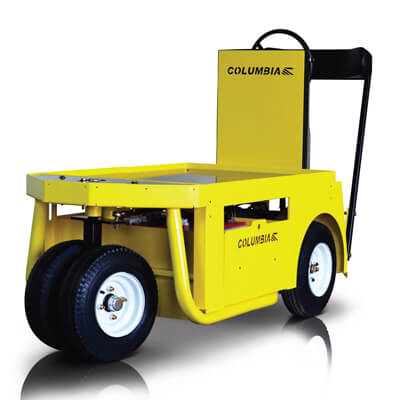 The Stockchaser cargo transporter is the premier electric vehicle for moving heavy loads in tight spaces in warehouses, manufacturing and distribution centers.
With a deck capacity of up to 500kg, you'll be hard-pressed to need more cargo capacity than this compact performer will transport efficiently. An optional special duty package increases the Stockchaser's towing capacity to 2700kg, making it uniquely suited to moving heavy loads in narrow spaces. The adjustable backrest and stand-up operation provide a safe and comfortable position for the driver. The Stockchaser's tubular steel chassis and steel body panels make it as rugged as it is manoeuvrable. And with its standard dual tire front fork, it is the most stable narrow aisle burden carrier available.
Perfect for:
Manufacturing
Warehouses
Towing
Distribution Centers
Maintenance
Parts Expediting
In comparison to other industrial electric vehicles, Columbia vehicles include:
Steel frames and bodies that utilise thicker gauged steel (longer-life)
The most robust drive motor (better operation in hot/harsh environments)
The most efficient power control system (more usable range on a charge)
The most efficient charger (less energy used to charge vehicle)
Intelligent energy recovery braking (wasted energy recycled to recharge batteries)
You may also be interested in...
Contact us for sales, parts and servicing of electric vehicles, buggies, carts and battery trucks
Contact us