Contact us for sales, parts and servicing of electric vehicles, buggies, carts and battery trucks
Contact us
---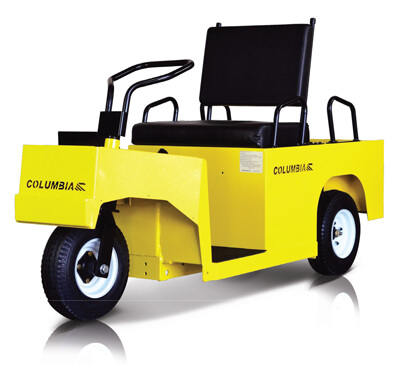 The Expediter electric transporter is the perfect electric vehicle for moving personnel and payloads through tight spaces in warehouses, manufacturing and distribution centers.
Its narrow design, tight turning radius, and best-in-class capacity rating enable you to transport personnel and payload through "tight spots" and right up to the job site. The standard fold-down seatback converts the Expediter into a two-person transport, making it a versatile solution capable of pulling double duty at your facility. Available options allow us to match just the right Expediter to your specific requirements.
Perfect for:
Manufacturing
Warehouses
Government Installations
Resorts
Meeting Facilities
Anywhere moving people/goods efficiently matters
In comparison to other industrial electric vehicles, Columbia vehicles include:
Steel frames and bodies that utilise thicker gauged steel (longer-life)
The most robust drive motor (better operation in hot/harsh environments)
The most efficient power control system (more usable range on a charge)
The most efficient charger (less energy used to charge vehicle)
Intelligent energy recovery braking (wasted energy recycled to recharge batteries)
You may also be interested in...
Contact us for sales, parts and servicing of electric vehicles, buggies, carts and battery trucks
Contact us