Contact us for sales, parts and servicing of electric vehicles, buggies, carts and battery trucks
Contact us
---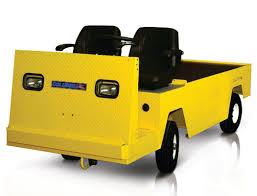 The Payloader is the most versatile, high weight capacity electric vehicle, perfect for warehouses, distribution centers, airports, government facilities, and various other applications.

Choose from two available bed lengths with standard rated capacities that range from 1000 to 2350 kg. If you need to tow, the Payloader has you covered all the way up to 7 tonnes. Maintenance-free batteries, van bodies, operator cabins, and folding side rails are just the beginning of a very long list of available options. Need to carry or tow more? Have a unique application requirement? Don't worry, Columbia will custom build a Payloader for you; like they've been doing for more than 60 years now. Just let us know what you want.
Perfect for:
Manufacturing
Distribution Centers

Maintenance
Airports
Government Facilities
Universities
Wherever you need a versatile, powerful performer
In comparison to other industrial electric vehicles, Columbia vehicles include:
Steel frames and bodies that utilise thicker gauged steel (longer-life)
The most robust drive motor (better operation in hot/harsh environments)
The most efficient power control system (more usable range on a charge)
The most efficient charger (less energy used to charge vehicle)
Intelligent energy recovery braking (wasted energy recycled to recharge batteries)
You may also be interested in...
Contact us for sales, parts and servicing of electric vehicles, buggies, carts and battery trucks
Contact us